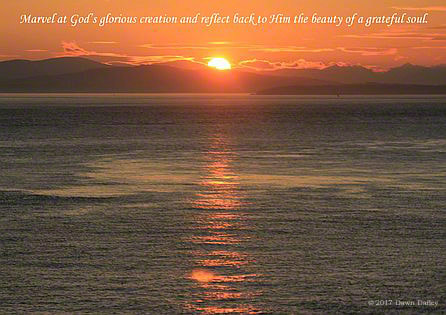 LORD, our LORD, how majestic is your name in all the earth! You have set your glory in the heavens…When I consider your heavens, the work of your fingers, the moon and the stars, which you have set in place, what is mankind that you are mindful of them, human beings that you care for them?
Psalm 8:1, 3-4
Traveling in the south of France, I saw one charming town after another. Amazed at both the history and the quaintness of these villages, I wasn't prepared for our tour guide's next remark: "The people of this town don't really see its beauty." I wasn't sure I heard her correctly. How could they not see how absolutely gorgeous their corner of the world was? This thought haunted me the rest of the day as we traveled on to other lovely towns.
How often do we miss the beauty surrounding us? When traveling to new places, I can easily see with fresh eyes what the locals miss. The cobblestoned streets curving gently passed pastel buildings and the bobbing heads of brightly colored flowers waving welcome never fail to enthrall and capture my heart. Yet, I wonder, what do I totally miss in my everyday?
Travel teaches us many lessons that, if we aware, can spill over into our normal routines. When traveling, we switch over into vacation mode, relishing the slower pace and relaxed days. Seeing our surroundings perhaps for the first time allows us the luxury of paying attention to details and soaking in the new and different. Travel teaches us mindfulness, the art of being present in the moment as the usual worries and anxieties fade away the further we travel from home. Being fully aware as we engage in new cultures and sights creates an excitement within, a freshness, a desire to experience life to the fullest.
Bringing back that mindfulness from vacation and incorporating it into our daily lives is challenging. Busyness robs us of the opportunities to focus on what is right in front of us. Taking even a short second to notice our surroundings, drink in the beauty deep into our souls, and inhale the fragrance of present moments is an art worth pursuing.
When was the last time you noticed a striking sunset or brilliantly hued flowers? Or the laughter of a child? Or the smiling face of a close friend? When did you drink in the beauty of your surroundings until you thought your soul would burst with sheer happiness and gratitude?
If your answers, like mine, are "too long ago" or "never", then take a "vacation" in your everyday to stop, look, and listen. Feeding your soul with morsels of beauty each day is too good to save for special vacations. Our corner of God's vast world is beautiful, too, right here and now. Like the writer of Psalm 8, we, too, can marvel at God's glorious creation and reflect back to Him the beauty of a grateful soul.
Lord, I thank You for the beauty of Your creation. Give me eyes to see and a heart of gratitude for sights and sounds that tell of Your majesty. Make me mindful, unhurried, and aware of Your presence every day. In Jesus' Name, Amen.
Want to subscribe to future posts? Click
here
.
Text and photograph copyright © 2017 by Dawn Dailey. All rights reserved. Photo of sunset from San Juan Island, Washington.
All scripture quotations, unless otherwise indicated, are taken from the Holy Bible, New International Version®, NIV®. Copyright ©1973, 1978, 1984, 2011 by Biblica, Inc.™ Used by permission of Zondervan. All rights reserved worldwide. www.zondervan.com The "NIV" and "New International Version" are trademarks registered in the United States Patent and Trademark Office by Biblica, Inc.™