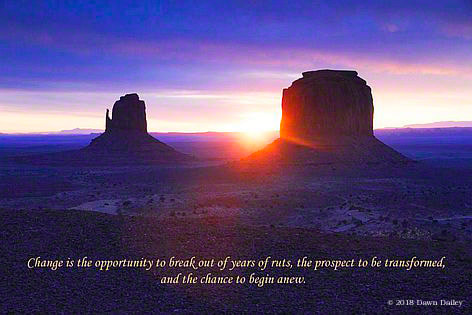 Being confident of this, that he who began a good work in you will carry it on to completion until the day of Christ Jesus.
Philippians 1:6
My story is one of heartbreak and healing, fear and courage, resilience and trust, and God's strength and peace. While my story obviously began the day I was born, I woke up in the middle of my story, so to speak, when my brother died suddenly of a massive heart attack. My 18-year marriage began to unravel at the seams, passing the point of repairability until it ended in divorce. Through remarriage and subsequent divorce, through the deaths of both parents, through a cross-country move, I have seen God's hand at work in my life to bring about transformation to my character, to my wants and desires, to my perspective. God has transformed tragedies into blessings, changes that I never wanted, but I am thankful for the growth and change within as a result of the changes without.
Change is never easy. Although some people seem to "roll with the punches" better than others, I have always found change difficult. Especially if there is little advanced notice, change can be disruptive and create chaos where there once was order. Change can commandeer our plans as it upends us emotionally. The flip side of the coin of
c
hange is the opportunity to break out of years of ruts, the prospect to be transformed, and the chance to begin anew.
When a friend recently called me resilient, I was stunned. Resilience implies an inner strength and fortitude to weather whatever the storms of life may bring. Perhaps outwardly I did reflect some sense of resiliency and I know that I did get to a place where that was actually true inwardly. What she saw in me was the grace and mercy of God. But to get there, I had days when I felt I was hanging by the proverbial thread. Praying for God's strength and peace fills me supernaturally with both. When we can no longer move forward through change, crisis, or loss, when we cry out to God for help, He comes along beside us and also within us to fill us up with His strength and peace, and even wisdom to navigate the storm, if only we would turn to Him and ask.
My aim in life is not to be happy, as happiness is sorely dependent on circumstances, but rather to be content. Despite the circumstances swirling around me, God raises me up on a rock that is higher than I (Psalm 61:2). When I focus on gratitude, my heart overflows with thankfulness even in the midst of my circumstances and I experience contentment and even joy. When I change my perspective to God's, even when my vision is clouded by my surroundings, I can experience His peace, knowing that God is faithful and He is good, that whatever happens to me can be used by Him to transform me into who He wants me to be.
We're called to not only be the hands and feet of Jesus while we're here on earth, but we are called to actually BE like Jesus, to take on His character, to be Christ-like in our thoughts, attitudes, and actions. God can and will use painful circumstances in our lives to shape us into who He wants us to be. While this life of transformation is a journey, and I'm certainly not there yet, I can trust that the God who created me will see this change in me through to its completion, for my benefit, for others' blessings, and for His glory. May it be so!
Father God, thank You that you hear my cries and Your indwelling Spirit fills me to overflowing with Your grace, mercy, strength, and peace. Continue to transform me into who You would have me to be, more like Jesus every day. Amen.
Want to subscribe to future posts? Click
here
.
Text and photograph copyright © 2018 by Dawn Dailey. All rights reserved. Photo of sunrise in Monument Valley, Utah.
All scripture quotations, unless otherwise indicated, are taken from the Holy Bible, New International Version®, NIV®. Copyright ©1973, 1978, 1984, 2011 by Biblica, Inc.™ Used by permission of Zondervan. All rights reserved worldwide. www.zondervan.com The "NIV" and "New International Version" are trademarks registered in the United States Patent and Trademark Office by Biblica, Inc.™